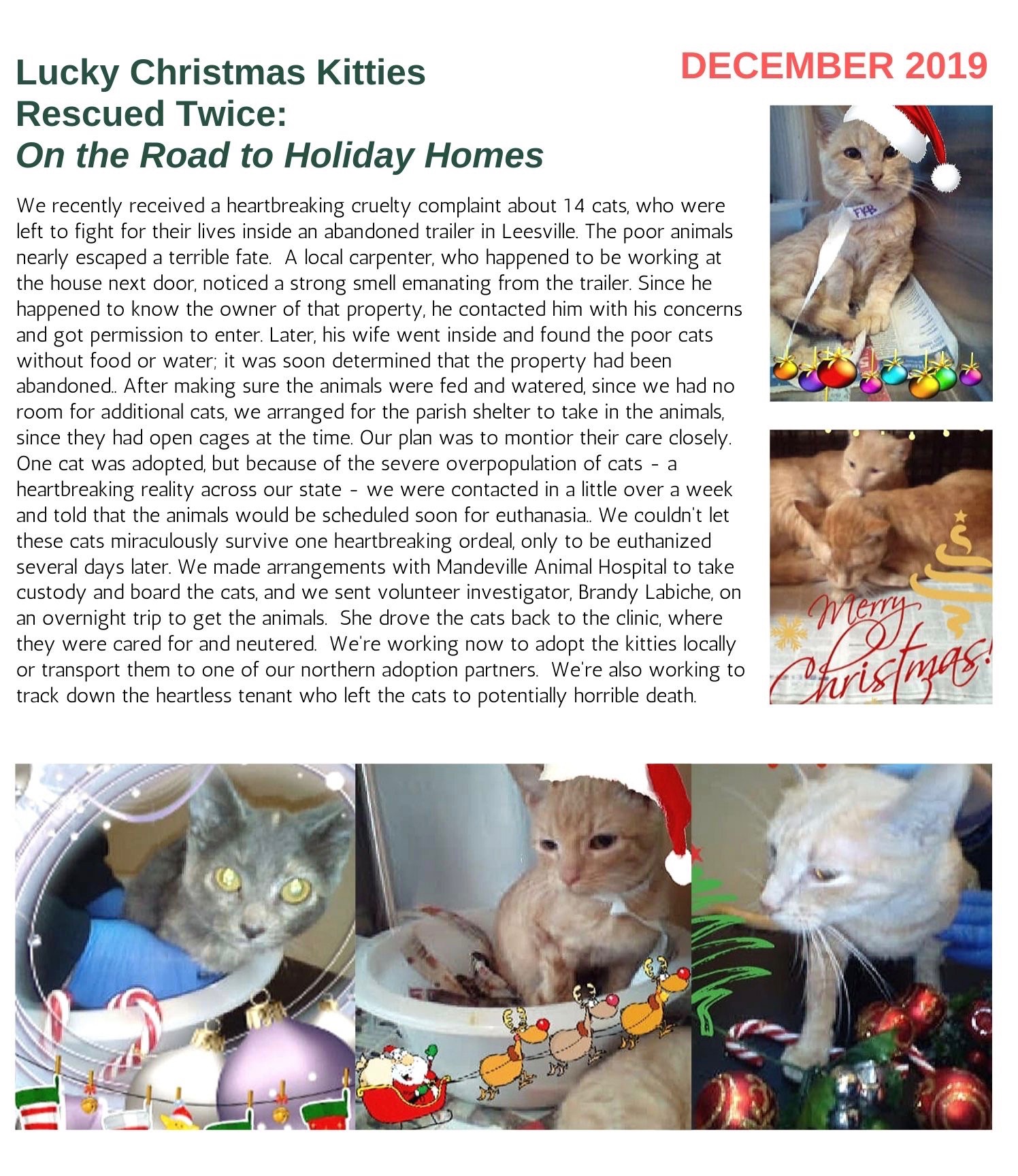 ---
News Release: For Immediate Use
Contact Person: Jeff Dorson, HSL Director, 901-268-4432
HUMANE SOCIETY OF LOUISIANA STAGING RELIEF EFFORT




FOR ANIMAL VICTIMS OF FLORENCE
The Humane Society of Louisiana crew is deeply saddened by the plight of people and animals now impacted by Hurricane Florence. The charity has been at the epicenter of many devastating disasters and relief efforts, most notably Katrina, 2016's Great Flood and 2017's Hurricane Harvey. The New Orleans-based charity is now mobilizing to help animals and shelters impacted by the hurricane.
"We've often been the beneficiary of critically needed aid during disasters," says Jeff Dorson, Executive Director of the Humane Society of Louisiana. "We plan to do whatever we can to be of service to animals and shelters impacted by this devastating storm.."
The group is mobilizing to aid with relief efforts, first by setting up donation drop-off locations in the Greater New Orleans area. Humane Society workers will travel to the disaster zone after the storm passes to to contribute the needed supplies and offer support.
JEFFERSON FEED & SEED
(Jefferson) 4421 Jefferson Hwy, Jefferson 70121
(Uptown) 6057 Magazine Street, New Orleans 70118
(Mid City) 309 N. Carrollton Avenue #1N, New Orleans 70119
(Metairie) 2949 Vets Memorial Blvd – A-4, Metairie 70002
ZEN PET RETAIL & GROOMING
4500 Magazine St #5, NOLA 70130
Based on the agency's experience, they are requesting donations of non-perishable goods and other items needed during relief efforts.
"For animal lovers, the natural and first inclination is to donate food," says Dorson, "But in too many instances, these generous donations are damaged or spoiled because a lack of storage space – particularly in the early days of a response effort. Pet food companies and stores often generously donate truckloads of cat and dog food, and it can sometimes be a logistical challenge to unload pallets and properly store them."
While donations of non-perishable items are encouraged, the Humane Society will also accept pet food for Florence victims. The agency will deliver to Florence-impacted shelter/rescue groups, once agencies confirm they are ready and able to receive it.
WISH LIST:
FOR ANIMAL CARE AND HOUSING
Long, Heavy – Duty Slip Leashes / Cat Litter & Litter Boxes / Towels and Blankets /
Crates & Carriers / Puppy Pads / Stainless Steel Bowls & Buckets / Baby Pools/ Dog Chew Toys (Also Accepting Pet Food & Treats)
FOR RELIEF WORKERS / VOLUNTEERS / EMERGENCY SHELTERING
Energy Drinks & Non Perishable Snacks (like Nuts and Energy Bars)
Toiletries / Hand Sanitizer / Rain Ponchos / Buckets & Mops / Masks / Fans
Flashlights & Batteries / Extension Cords / Tarps / Zip Ties & Bungie Cords
Contractor Bags / Paper Towels / Toilet Paper / Paper ID Bands / Dry Erase Boards & Markers / Blankets / First Aid Kits
Gift Cards for Building Supplies – WalMart, Lowes & Home Depot
For donors wanting to provide food or other direct care, the Humane Society of Louisiana recommends providing monetary gifts to local groups in the impact zone. Funds are always urgently needed for veterinary care, medical supplies, fuel, equipment and field operations. Priorities change quickly in the aftermath of disasters, and having cash on hand enables groups to be flexible in responding to changing needs.
"Please remember the small, local groups in these times of crisis," says Dorson, "While large and well funded first responder groups will likely be in a better position to ask for support, local groups will not only need help during the relief effort but also during the long rebuilding process.
Volunteers wanting to assist with organizing and transporting supplies in the Greater New Orleans area and/or across country may contact the group at info@humanela.org.
In addition to dropping off needed items, local donors can support the Humane Society of Louisiana's Florence relief effort by donating at www.HumaneLA.org or by sending tax-deductible gifts to: FLORENCE RELIEF, ℅ Humane Society of Louisiana, PO Box 740321, New Orleans, LA 70174. Additionally, the Humane Society is always looking for trailers, RVs and portable buildings for use in disaster response and efforts. The agency is constructing a 'Disaster Relief Staging Ground' at its 47-acre Enoch J. Donaldson Animal Sanctuary in Mount Hermon, Washington Parish.
#
---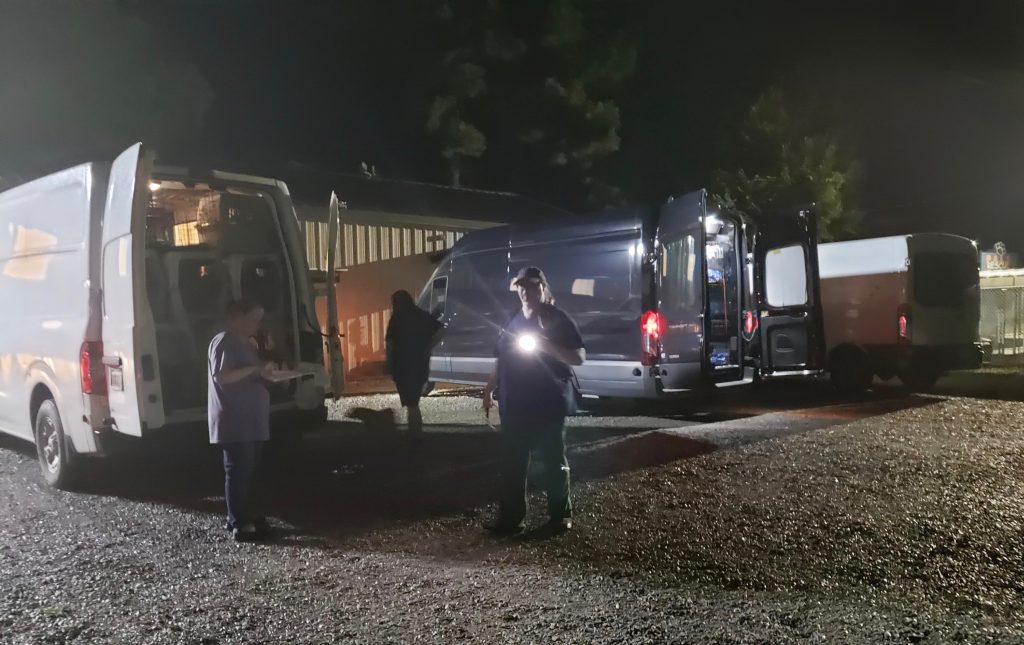 The Humane Society of Louisiana crew and scores of volunteers worked nonstop to protect animals impacted by Hurricane/Tropical Storm Barry.
Louisiana citizens remained vigilant and first responder teams went into action as Hurricane/Tropical Storm Barry moved through the state .A Flash Flood Watch for Southeastern Louisiana is still in effect. Many homes are without power, and many areas across the state have been impacted by flooding.
Despite the hardships for many, we were lucky to have been spared some of the most dire predictions of significant flooding and levee breaching being realized. We'll soon have a better idea of the scope of the damage and will be better able to assess local needs going forward.
Here's what we did to respond:
After securing our animals at our Mt. Hermon and at our Tylertown properties, our crew went to work setting up transports for adoption-ready animals in harm's way. We set up a Facebook group to help small rural shelters connect with northern 501(c)3 rescues willing to take in the storm victims. We've been organizing transport vehicles and working nonstop to make the animal transfers happen.The kind donations of our members have been covering the costs of vet checks, health certificates, fuel, equipment and evacuation costs. Transports from the most impacted areas are scheduled to continue through next week.