Here's what we've done so far:
-Saved more than 700 animals by transporting them to our no-kill adoption partners, who will find them forever homes. (By emptying shelters of adoption-ready and surrendered animals, we've been making way for more rescued hurricane victims.) We'll continue helping animals in need from parishes in West Louisiana which were impacted by Harvey. We're working hard to keep owner-surrendered pets from dying as a result of the hurricane.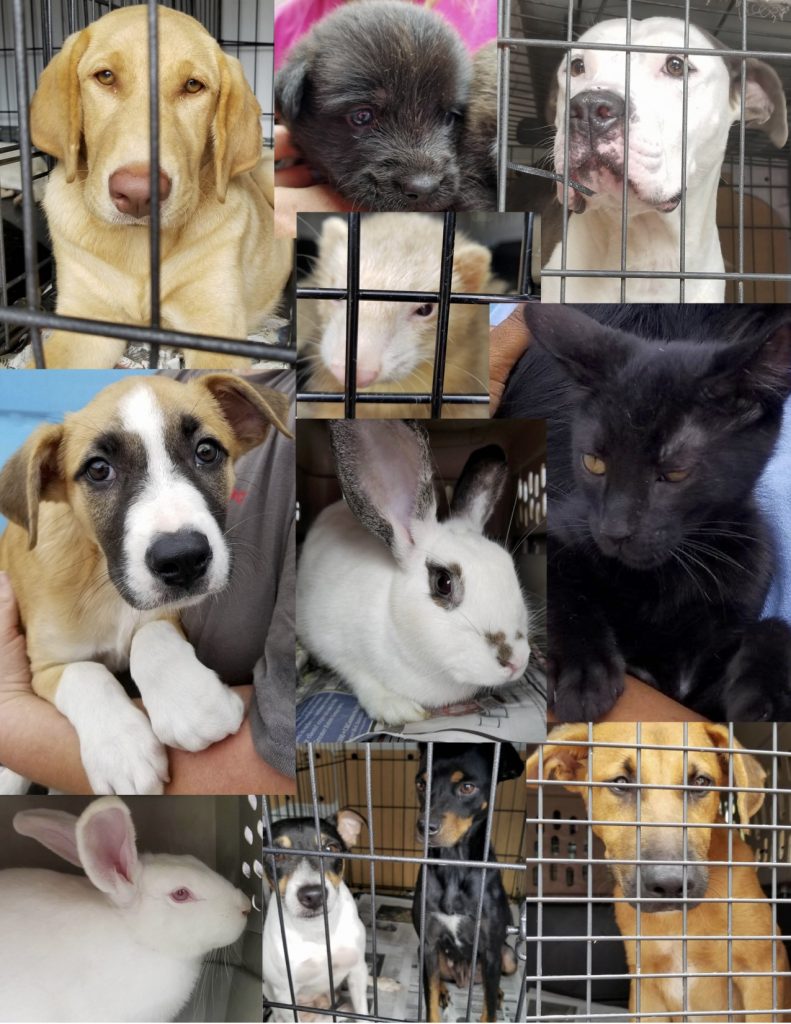 -Provided needed equipment and support to impacted shelters and rescues.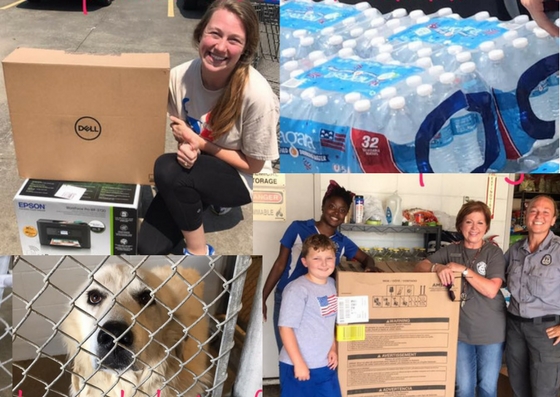 -Mobilized scores of volunteers to assist non-stop: collecting and delivering supplies; driving cross-country transports, providing vet care for animals and more.
Animal food and supplies are flooding into the impacted areas and this need will continue over time. Right now, however, we still need monetary donations for transport vans, drivers, fuel, vet bills, volunteer support and disaster relief operations. If you can help please donate HERE. For this and future relief efforts, we also need trucks, vans, trailers and RVs, if anyone is in a position to help with those larger items.
Our years of boots-on-the-ground experience makes the Humane Society of Louisiana truly effective in the area of disaster relief. From being at the epicenter of Katrina to spearheading relief efforts during Louisiana's Great Flood, we know how to get lifesaving work done. We have an extensive database of experienced contacts from across the country. We've developed relationships lasting more than a decade with skilled first responders, volunteers and rescue groups, who work with us to make a significant difference on a modest budget.
Our wealth of experience and commitment, however, does not translate into the wealth of bigger groups on the ground, who can better mobilize resources during times of crisis.
We have volunteers ready to deploy and partner charities and vets ready to house and help more animal victims.We have an experienced crew of seasoned disaster relief workers who are already giving their all to help Harvey's animal victims.
The need for a disaster relief staging area at our Enoch J. Donaldson Animal Sanctuary in Mount Hermon has never been clearer. It will provide a base of operations for Gulf Cost rescue and relief operations for years to come. We'll update you on our progress in future updates.
Meanwhile, like much of the country,
we're keeping a watchful eye on Irma…
---
AUGUST 28th: HURRICANE HARVEY: RELIEF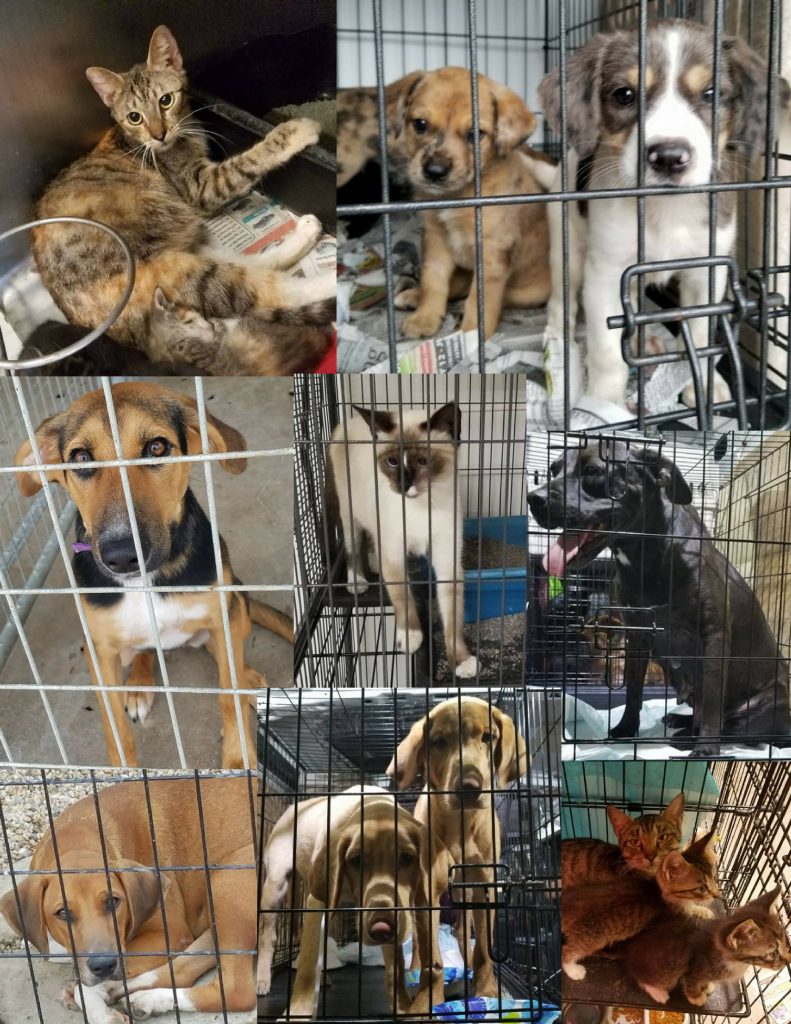 More than 178 animals from Texas and Louisiana rescued from harm's way. Our work continues….
MON AUG 28 – HARVEY UPDATE – LOUISIANA:
From the National Hurricane Advisory Center update: "The flood threat is spreading farther east into Louisiana. Additional rainfall amounts of 15 to 25 inches are expected in southwestern Louisiana, with rainfall amounts of 5 to 15 inches expected in south-central Louisiana and 5 to 10 inches in southeastern Louisiana." If you are planning to evacuate, PLEASE TAKE YOUR ANIMALS WITH YOU. Please look in on your neighbors – especially the elderly ones – to make sure that they and their pets have a plan and help as you can.
All of us at the Humane Society of Louisiana are relieved today that we got an early start on evacuations and transports which are ongoing today. Otherwise, we are operating in emergency mode right now, so please bear with us if we do not get back to you as quickly as we would like to, especially to those of you with offers of help. We are very appreciative of all offers of support! If you are a 501(c)3 rescue wanting to help with transports or fosters/adoptions or if you have access to (or would like to donate!) RVs, trucks, trailers, etc, please email us. We will return all other messages as soon as we can. Our biggest need right now is for monetary donations for cross-country transports, fuel, van rentals, health certificates, vet bills, etc. You can donate HERE.
Until we have drop off locations established, gift cards (WalMart, Lowes, Home Depot, gas cards) are always very helpful, too and could be sent (as can checks) to: Humane Society of Louisiana, PO Box 740321, New Orleans, LA 70174. THANK YOU SO MUCH FOR CARING AND FOR HELPING!!!
---
Saturday August 26th
HUMANE SOCIETY OF LOUISIANA EVACUATING ANIMALS FROM TEXAS AND LOCAL SHELTERS, MOBILIZING RELIEF EFFORTS
As Hurricane Harvey batters Texas – and with catastrophic rain and flooding still threatening Louisiana – the grassroots Humane Society of Louisiana has been tirelessly at work, evacuating and relocating homeless shelter animals in harm's way.
In just two days, using 4 vans and a host of local and national contacts, we've evacuated and arranged lifesaving transports for more than 162 animals from shelters in the hurricane's path or at risk of flooding. Animals have come from Texas and from Louisiana parishes, including St. Landry, Vermilion, Livingston, Ascension, Lafourche, Iberia parishes and the City of Walker.
Evacuation and transports of at-risk dogs and cats are continuing to our no-kill adoption partners in Maryland and Missouri, as well as to East Coast facilities in New York and New Jersey.
"We have more dogs arriving from Texas today," says Humane Society of Louisiana Shelter Manager, Jessica Cameron, a veteran disaster relief worker, who has been coordinating the efforts. "Some animals are going to local groups like Zeus's Place and Take a Chance, while others will be going to our northern no-kill partners, who worked with us during the 2016 Floods." Work is also underway today to evacuate animals from the Acadia parish shelter.
We'll be monitoring the crisis as it develops and will help direct services, supplies, resources and support to those in need. Drop off locations, wish lists and volunteer opportunities will be published here soon.
"We will continue to monitor the situation and do whatever we can to help with disaster relief efforts throughout this crisis," says Jeff Dorson, Executive Director of the Humane Society of Louisiana.
At present, monetary donations for transports, evacuations and response operations are most needed. Contribute HERE.