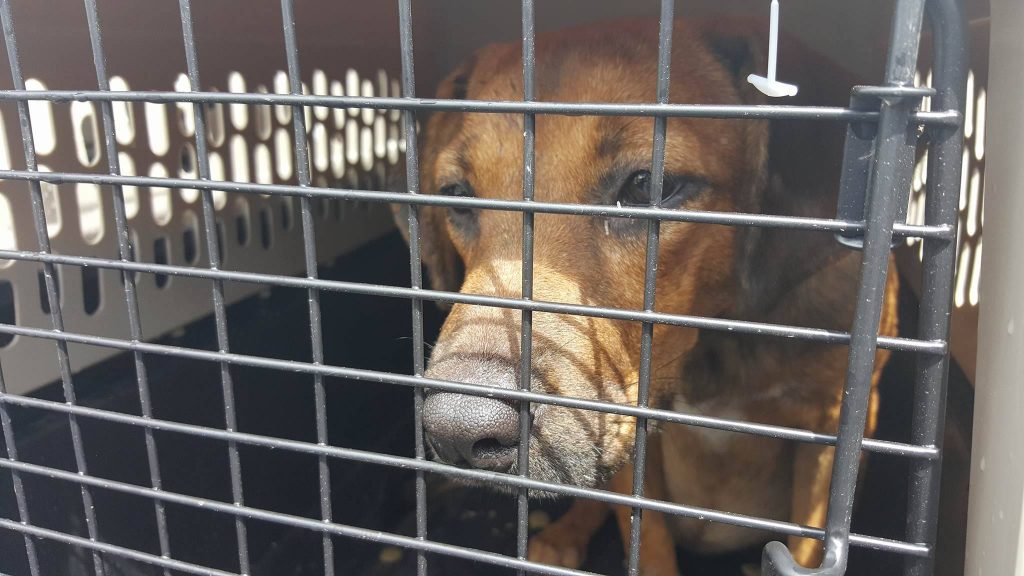 WE'RE NOT STOPPING NOW, WHEN ANIMALS STILL NEED OUR HELP.
Our grassroots Louisiana charity responded immediately to Louisiana's Great Flood of 2016, saving animals by assisting small rural shelters with evacuation and rescues.
Our dedicated team of local animal defenders, with the support of volunteers and rescuers from around the country, rescued or provided direct aid to more than 1000 animals through various hands-on programs in several parishes. Countless thousands have been and will be helped through ongoing food and supply distribution programs.
We first established a base of operations in hard-hit Livingston parish and subsequently opened a disaster relief animal shelter in Amite, which is still open and housing flood victims at Florida Parish Arena, 1301 NW Central Avenue, Amite, 70422.
Our team members have also been distributing donated pet food to struggling Livingston parish residents, coordinating incoming supplies and moving them to those in urgent need.
"We certainly don't want to shut down this program when families and pets are still counting on us," says Dorson.
We provided daily care and support at the side-by-side human-animal shelters in the parish, assisting with animal care, feeding and more. Many of these animals were in need of vet care which their guardians – left homeless by the flood – were unable to provide. To help everyone, we transported animals to vets and provided free treatment for flood victims.
One serious problem is that Livingston parish offers very limited animal control services, leaving needy families pets with little local support, particularly should they need to foster or relinquish their animals.
"We want to assist in any way we can," says Dorson. "From helping families keep and care for their pets, to providing critically needed spay/neuter services in the area. There is so much work that needs to be done! With adequate funding, we'll keep making a difference in every way we can."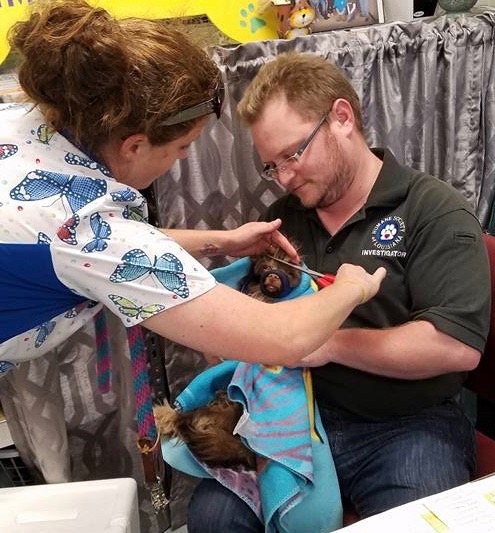 Since the Livingston parish-mandated 45 date 'hold' period for lost pets has now expired, the Humane Society now faces another difficult, time consuming and costly task: transporting, fostering, caring for and adopting out the remaining survivors. Despite many happy reunions with families, more than 40 dogs now in the Humane Society of Louisiana's care still remain homeless. Many of the animals will also need expensive veterinary treatment.
Even before the flooding began, our TransPUPtation program assisted small shelters and rescues in areas around the disaster zone. We routinely save the lives of shelter animals by transporting them to our no-kill adoption partners on the East Coast, where homeless pets are more in demand by families wanting to adopt. The need for such rescue services in aid of small nonprofits will certainly increase as a result of Louisiana's Great Flood.
It's hard for us to believe that we were still recovering from our devastating fire of late 2015, before we became actively involved in this summer's flood relief effort. Our relief efforts naturally eclipsed our ongoing work to replace our lost building. We are, however, reviving our 'YouCaring' fundraiser in the hopes of raising the needed funds to replace our building by year's end, even as we face all these additional challenges. Click HERE to help.
"We know the extraordinary heartbreak and hardship of being victimized by disaster," says Dorson. "Our unique experience and perspective compels us to do all we can to make a difference."
DONATE HERE if you can help.
The Humane Society is extremely grateful to its volunteers and primary response partners: Dog People of Livingston, Brother Wolf Animal Rescue and American Humane for their support throughout the disaster. To the many companies who have donated and to all the groups, small and large, who have supported our efforts, we say 'thank you' SO much!